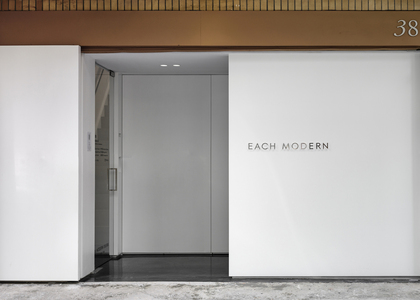 38 Lane 79 Sec. 2 Xinyi Rd. Taipei Taiwan
| Works | following | follower |
| --- | --- | --- |
| 135 | 3 | 8 |
Daily Pictures
Each Modern is pleased to present Daily Pictures, a group exhibition of new and earlier work by Kevin Weil, Cici Wu, Max Guy, Margaret Lee, Mari Eastman, Arnold J. Kemp, Gaylen Gerber, Peter Fischli David Weiss and David Diao, curated by Alex Jen. Spanning generations, these nine artists apprehend the world in curious and humble ways, often via meticulous inquiry into their own materials and processes.

Each Modern strives to present Asian artists while researching and creating dialogues between different regions. In Daily Pictures, working with Alex Jen from liquid background across the States, Taiwan and Hong Kong, Each Modern aims to provides a lens to focus on the contemporary subject interrogating inner culture of conditioning in relation to one artist to another.

About 'Daily Pictures'
Daily Pictures is about observation. It offers an open understanding of history, social change, cultural comings and goings — realities that can feel too large for the present moment — by attuning to the pace of life at home and in the studio.

"Daily" refers to a belief in practice; "Pictures" refer colloquially to photographs and films and paintings but moreover to a discovery of the mundane. Observation is a kind of acclimation, or reframing: answers take time, and usually come in the form of more questions. Five artists live and work in Chicago (this curator's previous home); several have shared a student-teacher relationship, either officially or as admirers from afar, learning from each other. All, despite their various cultural backgrounds, engage the American context to a degree. They continue to take the world as it is, avidly experimenting within limits of form. Observation can feel at odds with the pressures of a career. Still, in lieu of resolution, these artists trust in the process, internalizing and building upon their influences, allowing the work to reveal itself. In the meantime, there will always be Daily Pictures.
2023-05-06
Information
Other