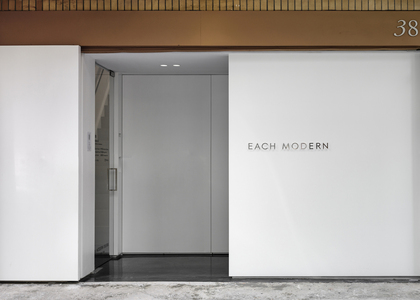 38 Lane 79 Sec. 2 Xinyi Rd. Taipei Taiwan
| Works | following | follower |
| --- | --- | --- |
| 137 | 3 | 8 |
Love Songs
October 22 – November 28, 2020
Opening reception: October 24 | 6 – 8 PM

Chin Sung
Liao Chi-chun
Shiy De-jinn

Lan ChungHsuan
Lee LiChung
Kao JunHonn
Wu Chi-Yu

Each Modern is pleased to present "Love Songs", a group show comprised of works by seminal Taiwanese post-war artists Shiy De-jinn, Liao Chi-chun, Chin Sung and contemporary artists Kao JunHonn, Wu Chi-Yu, Lee LiChung, and Lan ChungHsuan.

Initially, this exhibition was focused on of artists' responses, their personal narratives, and the shifting meaning of art during a time of pandemic. But as a result of the intense seismic fluctuations in international relations due to these circumstances, we adopted a more macroscopic view of these relationships, and expanded our scope to reconsider time, region, and topic. As a result, the exhibition endeavors to contemplate the complex tension that exists between artist and country, as well as between countries, from a historical and contemporary context. We explore how these tensions influenced the views and practice of these post-war and contemporary Taiwanese artists.

The exhibition title, "Love Songs," is not an explicit reference to songs that take romantic themes as their subject, rather, the show uses the trope of the love song as a metaphor for the turbulent, idealized, and at times seemingly aleatory connections between countries. They sing their affection, they break-up, they reunite.

From colonial periods, the post-war period, the Cold War, through failed diplomatic relations, missile crises, to the near future, "Love Songs" present artists from Taiwan responding to these macro-narratives impacting their lives and practices. Beginning on the second floor, the works of Shiy De-jinn, Liao Chi-chun, and Chin Sung illuminate their histories and their art from a time when the Western world attempted to exert a particular cultural influence on Taiwan's development.

In 1924, Liao Chi-chun(born in Taichung,1902 - 1976) attended the Tokyo University of the Arts. He was lauded as one of the first Taiwanese artists to be shown in the Empire Art Show. In May 1962, Liao was invited by the United States Department of State to tour the museums and art institutions in the US and Europe to absorb the prevailing arts of that time. During his stay in Chicago, he began experimenting with a new method of art making. As one of the first Taiwanese artists of his generation to be sponsored to visit the US, he frequently shared his experiences with The Fifth-Moon Group, United States Information Agency, Lion Art and the other active art organizations. "Like Chagall said, he went to Paris to be inspired instead of learning how to paint. That's why I strived to find my own new way." Liao was not only a pioneer in developing the possibilities of Taiwanese modernism, he also imparted his knowledge to other artists, encouraging them to develop their own methods under the wave of abstract art. Liao's "Portrait of Sun Yat-sen"(1945) was painted for the Tainan First Senior High School while he taught there. Although the painting was made before his visit to US, it strongly reflects Liao's artist-identity during a historical turning point for Taiwan- the retreat of Japanese Empire and the retrocession of the ROC.

Shiy De-jinn(born in SiChuan, 1923 – 1981) studied with the pioneering Chinese painter Lin FengMian. Shiy moved to Taiwan in 1948 and had his first solo show with the China Institute in America in 1957. That same year Shiy participated in the São Paulo Art Biennial, and would participate again in 1959. In 1960 and 1961, Shiy showed in group shows at United States Information Agency in Taipei, and was also invited by United States Department of State to visit the US in 1962 to research and encounter American art of that time. In 1963, he moved to Paris, France, and traveled throughout Europe. During that time, he became acquainted with Zao WouKi and Sanyu. Shiy moved back to Taiwan in 1966. In 1967, he created his only wall mural for the United States Information Agency in Taichung, and participated in the Sao Paulo Art Biennial once again. In 1972, he was in a group show held by Citibank.

Shiy's life and practice was tightly connected to the US. In the book "Shiy De-jinn's Letters" he writes, "There is a famous American artist who paints the American flag realistically. To them, art is life, and the audience should experience art in life. When we pursue art, I think there is a principle to seize, to make our art infinite – our emotions. Of course, the present context is important, as well as nationality, culture, and tradition. That's how we keep from getting lost." In his most famous portraitures, watercolors, and traditional Chinese architectural works, composed of lines and swathes of fauvist colors, the artist's emotional state is always legible. In his "Abstraction(No: Q5-31)" and "Abstraction(No: R1-27)"(both 1964) painted in Paris, Shiy portrays pastoral houses, done in both a near-pop art and abstract style.

Chin Sung(born in Anhui, 1932 - 2007) moved to Taiwan in 1949 with the retreating Kuomintang government. He first studied at the National Taipei University of Education, and joined the Ton Fan Group, Taiwan's first avant-garde art group, in 1959. Through the 1960s, Chin's art practice was heavily influenced by trends in Western art. During this time, he developed his unique style of black patterns and hard-edged lines. In 1960, Chin Sung was granted the Honor Award of São Paulo Art Biennial. Tragically, that same year he was accused by the government of producing anti-Chiang Kaishek paintings – a high offense during that period of martial law - which would lead Chin to eventually flee Taiwan. In 1965, Chin Sung returned to Brazil to serve on the jury for the São Paulo Art Biennial. In 1969, he moved to New York after a touring show in the US. Chin would remain in New York as politically he felt he was ostracized in Taiwan due to past accusations directed at his paintings. In the US he befriended Taiwanese emigrant artists Xie Lifa, Zhao ChunXiang, Hilo Chen, and Xia Yang. In his works, we might see a turn towards liberation. Although Chin Sung's art varied throughout his life, his dream and pursuit of freedom as an artist never changed, but for Chin, this could only be achieved abroad.

The environment Liao Chi-chun, Shiy De-jinn, and Chin Sung lived in forced them to confront certain political realities of their time. Though their works do not take these circumstances as their main subject, they nonetheless exerted a great influence in their development. After various encounters with American and European modern art and culture, each in their own way integrated, rejected, and sublimated their own practice to create new horizons of Taiwanese arts. Thus, they are three of the most important artists to shape a globalized Taiwanese modern art.

While these post-war artists sought new ways to integrate art and life to a new modernity, a younger generation of contemporary artists now pull themselves away from the questions of style and technique towards the conceptual and the material. On the first floor of the gallery, they offer a new narrative in regards to the history and future of Taiwan, and its international "relationships". Some from this emerging generation have studied or exhibited abroad. And although presently they all function within a stable context, through historical fragments, present-day anxieties, and looming futures, they seek to uncover the truth of the "love songs" between Taiwan, Asia, and its international partners.

Kao Jun-Honn(born in Taipei, 1973) presents a new field-research work made specifically for "Love Songs". The work is an expansion of his previous series "Ncaq"(2017). Kao's documenting sketches, maps, video, performance, and ready-made installation represent the historical trace where the land and the aboriginal peoples of early modern Taiwan encountered colonial forces and foreign powers. "Military Pigeon"(2020) series by Lee LiChung (born in Tainan, 1980) explores a hidden international conflict which occurred in Feiyan New Village in Tainan through declassified US military files. During World War II, Taiwan was an integral seat for the Japanese Empire's southern facing military operations. During this period, the US military utilized homing pigeons to conduct reconnaissance on the Japanese. Through a reenactment by the artist, we view Taiwan as a passive actor between two countries which greatly influenced its modern history of Taiwan through the perspective of a pigeon.

Wu Chi-Yu(born in Taipei, 1986)'s video installation "Asia Air"(2018) imitates the split-screen view of virtual reality goggles. From a flight cabin to international travel, the division of airspace and the use of a drone, the territory of the sky is in constant flux due to the divisions of geopolitical circumstance. Though it should be borderless, it is now full of invisible fences and demarcations. Wu introduces a possible future of the sky to viewers through his collective images and historical documents. Lan ChungHsuan(born in Taipei, 1991)'s painting installation "Let's bomb each other"(2020) leads the audience from post-war, cold war, to pre-war. The paintings of the missile trails turn the threats historical and memorial, yet the "puzzled" US military drone represents an unrecognizable appearance of the future. Alongside these two is a photograph of the blue sky resonates the universality of human beings.

"Love Songs" presents the attitudes and art practices of two different generations of artists working in the changing Taiwanese context of modern history. Together they attempt to hear the love songs within this dynamic. The songs connect not only the artist, their art practice, and their international perspectives, but also Taiwan to its "lovers." These songs, sweet or heartbreaking, leave us wanting for love songs to come.
2021-02-03
Information
Other