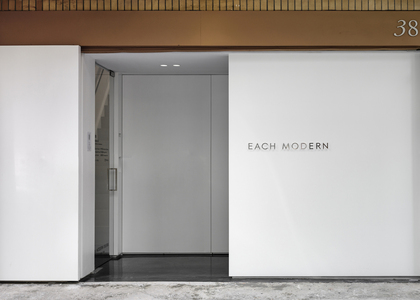 38 Lane 79 Sec. 2 Xinyi Rd. Taipei Taiwan
| Works | following | follower |
| --- | --- | --- |
| 137 | 3 | 8 |
New Relic I: Crossing Over
July 31 – August 29, 2020
Opening Reception: July 31 (Fri.), 2020 | 6 p.m. – 8 p.m.
Ai WeiWei, Chen ShiauPeng, Juan Sea, Tseng ChienYing, Wang GuangYi, Wang TingYu, Wu ChuanLun, Xu Jiong
Antique exhibitor: Chai-an

Each Modern is pleased to announce an all new thematic series titled "New Relics" two years in the making. "New Relics" aims to foster international art dialogues across region, culture, time, and space. "Crossing Over", the first of this annual series, reexams Asian antiques and brings them into a contemporary context and aesthetic to seek their connections with Asian contemporary art and emerging artists. Furthermore, Each Modern contemplates the context and the system of Asian contemporary art, and how artists create greater works within this heritage and its denial.

In examining the artifacts of the past, we see a contemporary consciousness echoed back to our present. Porcelains, fans, and other relics from worlds gone-by are tied to our present moment and reveal a shared elegance, taste, and sentiment. Contemporary artists also reinterpret these objects by adapting them to new modern works of art, at times using the connotations of these antiques to clash with the signs and symbols of our contemporaneity. The past confronts the present, the present reinterprets the past.

In the new works of Asian contemporary artists, threads to this past are never fully severed. In ceramics, form, shape, and texture speak to the ancient world while defining our times. In some of these works, a hybridity of culture is inherent, as artists use traditional elements in western contexts. Again, like in the ancient past, these objects are circulated around the world. As art and object cross new boundaries, so do the ideas and cultures they represent.
Through the contemporary artist and the antique object, what "Crossing Over" presents is more than the sum of their elegance. They are ideas made tangible and transmitted across cultures and time.
Art lives. Ideas endure.
2020-08-05
Information
Other