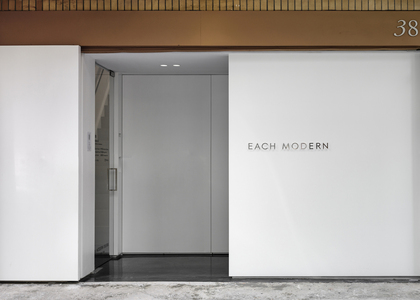 38 Lane 79 Sec. 2 Xinyi Rd. Taipei Taiwan
| Works | following | follower |
| --- | --- | --- |
| 137 | 3 | 8 |
Moriyama Daido: Pop Noir
September 11 – October 10, 2020
Opening Reception: September 11, 2020 | 6 - 8 PM

Each Modern is pleased to present "Moriyama Daido: Pop Noir" an exhibition of silkscreen on canvas works by seminal figure of Japanese photography Moriyama Daido which invoke the Pop Art and expressionistic elements of the artist's decades long practice. The exhibition features both well-known and uncommon images in the distinct format of the silkscreen on canvas print in his well-known stark black and white images as well as works accented by color.

One of the last living post-war masters of photography, Moriyama's practice seeks to question and redefine the premise of the photographed image. In his early praxis, Moriyama explored the unrelenting urban expansion, decay, and mystery, of the industrialized Japanese city. A key member of Provoke magazine, Moriyama's practice defined the "are-bure-boke" (grainy, blurry, out of focus) aesthetic in opposition to the editorialized and word-reliant conventions of that time. His grainy and high-contrast images stem from his itinerant methodology, wandering the world like a hunter, capturing moments, from real life or in images themselves, that produce a reaction.

In 2018 Each Modern presented "Radiation" a unique solo presentation of Moriyama's works which turned his influential images of light and shadow into glowing lightboxes. Now, "Pop Noir" reexamines the images and Pop Art traces of a different group of eclectic images through the tactile materials of silkscreen and paint printed on canvas.

In both subject and medium, Moriyama's images exist in a space between reality and illusion. The pop elements of Moriyama's works are not only referenced in his "scandalous" images, but also in the medium of the silkscreen itself. Moriyama was heavily influenced by Pop Art, in particular the focus of consumer culture, as seen in his "Provoke 3" works of photocopied supermarket shelves, as well as the iconic silkscreens of Andy Warhol and their photo-like qualities.

The selection of works in "Pop Noir" also reference the expressionistic style of Film Noir crime dramas of the 1940s and 50s. The hostile urban shadow-spaces and red-lipsticked femme fatales of Moriyama's works capture both an imagination of the newly emerging social space of modern Japan, while also projecting the visual tropes of this classic style. This connection to the urban danger and playful pop can be most clearly seen in "Untitled, Lips 9 Times," 2019, a large-scale print in red bad black featuring mouths ambiguously mid-expression or curled in a pout, like a flashing warning sign. Moriyama's "Tights (Black and Gold)," 2020, strays towards another playful aspect of pop in its use of near-kitsch gold rather than standard black and white.

A selection of the prints come from SCANDALOUS, 2016, a series of works taken in the late 1960s that feature the transforming urbanism, car accident laden images, and poetic chaos of post-war Japan. Scattered and alienated faces are melded in pop art collage of signage and dreamlike fragmentation. In another, a woman in dark sunglasses and a man with a cigarette hanging from his mouth cautiously scan the scene from inside a car, like a pair of criminals on the run. These grainy prints, some of which are photographs of photographs, push the boundaries of what defined photography at that time. With "Provoke 2," 1968/2019, one of the artists most iconic works of his Provoke contributions of a smoking woman inside a dark hotel room, our attention is directed to the lustful attraction of Noir resonating in Moriyama's works, even from its vantage point free of sign.

In the abstract and swirling self-portrait "Farewell Photography," 1972 / 2020, which comes from one of Moriyama's most highly praised photography books, we find the artist situated in his element, between the sprockets of film negative, nearly washed-out in the chemical traces of photography itself. Here we see the subject, the medium, and the author for what they are without illusion. In "Pop Noir", Moriyama takes us down yet another alley of shadow and light.
2020-09-12
Information
Other