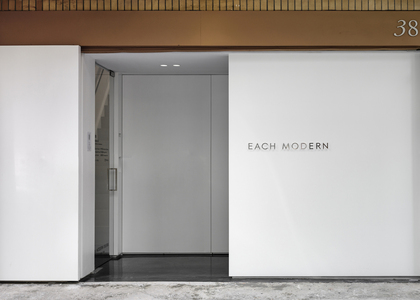 3F, 97 Sec. 2 DunHua S. Rd. Taipei Taiwan
| Works | following | follower |
| --- | --- | --- |
| 137 | 3 | 8 |
IMAGRATION @ Each Modern
Each Modern is pleased to collaborate with Gallery COMMON to announce the exchange exhibition 'IMAGRATION.' The exhibition will take place in Tokyo and Taipei with two groups of contemporary artists curated by each gallery. Each Modern will curate the first part of the exhibition at Gallery COMMON in Tokyo in March 2023, and Gallery COMMON will curate the second part at Each Modern in Taipei in April 2023. Through this exchange, 'IMAGRATION' hopes to inspire a discussion around the freedom and fluidity of the image, the malleability of its attached meanings, and the irreplaceable role of the artist in shaping the constantly evolving definitions of our visual language.

Each Modern will present in their space an exhibition of 5 Japanese artists curated by Gallery COMMON: IKEUCHI, Yukari Nishi, Keisuke Tada, Shohei Takasaki, and Kazuma Yamamoto. Through explorations of painting, sculpture, and the murky space in between, these five artists' wildly different practices present us with a glimpse into the new Japanese psyche.

Drawing from a wide range of both art-historical and current-day references, each of the artists in this show grapple with the ceaselessly changing visual landscape of postmodern Japan through a different lens. Coming from a society that has been wracked with rapid transition over the past few generations, these artists confront the way that introductions of new knowledge, technologies, cultures, and social structures have molded the current Japanese psychological landscapes– its frustrations and cynicisms, hopes and desires.

Keisuke Tada and IKEUCHI hover somewhere in between these two decades. Tada's works reference landscapes and settings from video games, which he translates into sculptural paintings that are not what they seem. The three-dimensional chains that hang heavily from his canvases are in fact made entirely of acrylic paint, and what seem to be cracked, peeling paintings from the 1800s are actually artificially aged canvases featuring scenes of places and subjects that only exist in the virtual game world. IKEUCHI's wearable cyberpunk sculptures reflect a similar approach, in that he translates ideas from fictional narratives into real life objects. Influenced by the aesthetics of the mecha (giant robot) universe that has gripped the Japanese imagination since the 80s and 90s, IKEUCHI's works are, like Tada's, wholly inspired by imagined worlds, and toy with our understandings of the future and the past.

Shohei Takasaki completes the show by bringing in works with perhaps the broadest range of influences. Historical artists and movements play a key role in informing his conceptual experimentation, but one can also see hints of the Western punk music and fashion that served as an outlet for him in his suburban childhood hometown of Saitama, Japan. Takasaki's work, a never ending inquisition into identity and meaning, utilizes the contrast and comparison of these wide-ranging references as a way to critique current definitions and create new understandings.

Surfacing from a tide of scattered, incoherent narratives, the constant that runs throughout these 5 artists' works is the practice of appropriating and repurposing the images around them to create brand new meanings. Though the artists come from all across Japan, they are tied together by their participation in this "remix culture," serving as a representation of the Harajuku values that the gallery centers its program on. Through this exhibition, the processes of "imagration" come to light in the presentation of these five artists who unflinchingly traverse the borders between categories.

As a counterpart to this show, Gallery COMMON will present in their space 5 artists curated by Each Modern's Lan Chung-Hsuan: Chang TingTong, Wu MeiChi, Tseng Chienying, Antone Könst, and Felix Treadwell. Read more about the show at their website.
2023-04-01
Information
Other