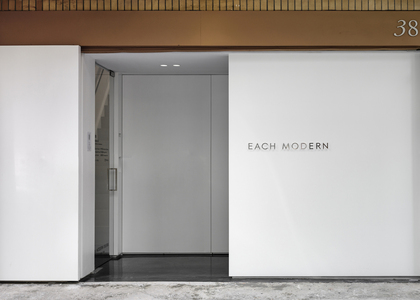 3F, 97 Sec. 2 DunHua S. Rd. Taipei Taiwan
| Works | following | follower |
| --- | --- | --- |
| 137 | 3 | 8 |
Art Collaboration Kyoto Presenting with Blum & Poe | Booth C25
Each Modern is pleased to participate in Art Collaboration Kyoto for the first time. The joint booth with Blum & Poe will present Each Modern artist Zhao Gang and Blum & Poe artists.

Chinese American artist Zhao Gang's new series throws out the theme "What is the Meaning of Paintings?" History, eroticism, religion, and politics, four most iconic elements of the artist are placed in four paintings. These works reveal a sense of sketching, lines are enlarged and the color fields are deconstructed. The figures and objects that we could easily distinguish in his previous art are now abstract and ambiguous. Conceptually, the series demonstrates how Zhao "learned to become an abstract artist from a painter." He also put days on the canvas to document his "practice." During the making process, Zhao questioned "what is painting," "what is abstract art," and "what is an artist." Such rational motivation challenges how abstraction is usually emotion-driven.

As one of the earliest and most consistent proponents of the Chinese avant-garde, Zhao Gang (b. 1961, Beijing) has never stopped re-inventing himself. The youngest member of the Stars Group in the late seventies and early eighties, he subsequently went on to study, live, and work in New York as a banker, publisher, filmmaker and artist. Zhao Gang's multifaceted work and audacious persona have helped deem him godfather of "bad painting" in China.
2022-11-18
Information
Other