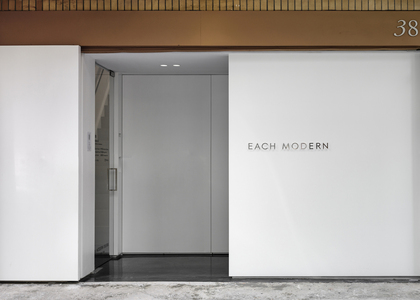 3F, 97 Sec. 2 DunHua S. Rd. Taipei Taiwan
| Works | following | follower |
| --- | --- | --- |
| 137 | 3 | 8 |
Antone Könst: Sirens
22 October - 26 November, 2022
Opening reception: 22 October, 2022 | 3 - 5 PM

Each Modern is pleased to announce Antone Könst's second solo exhibition in Taiwan, entitled "Sirens." In 2020, Könst held a solo exhibition at Each Modern called "Casual Magic," wherein the art converted ordinary life into mythical fantasies. However, soon after, the tranquility of life was disturbed by the pandemic, and the world was besieged with war and drastic changes. The artist also experienced major life events, such as catching COVID-19 and becoming a father. Könst condensed these events into the current exhibition, using his unique language of painting to respond to the current world, a world through which both turmoil and sorrow spread, but also one filled with fun and hope, reflecting people's oscillation between the two.

The title of this exhibition derives from a creature in Greek mythology, the siren. Different legends depict the features of sirens differently. Some say they have the body of a human and the head of a bird, while others think they can turn into mermaids. What is common to all the legends is that sirens are coquettish and beautiful. Their enchanting songs lure sailors to crash their ships and drown on the shores of the island the sirens call home. Through the rendering of history, the evil image of sirens has become well-known - Medieval Christian arts used sirens as a symbol of dangerous and seductive women, and the English word "siren" also means "alarm." Although in the beginning, the siren was portrayed as elegant and beautiful, the Muses clipped her wings, removing her ability to fly and causing her to fall onto and harm people. Könst uses sirens as the central theme of the exhibition. If his fairytale-style paintings are like the sirens' song, we are happily lured by the sirens' deadly voices and revel in their dulcet tones.

"This body of work is like a love song sung by sirens…The siren's song oscillates between the promise of a cool peace and the threatening heat of our times, and there is a beauty in both, in the dancing and the dying. My work is about that teetering in-between, about the belief which separates falling from flying." - Antone Könst

In the large-scale works Flute Player (2022) and Woodwind in the Park (2022), we are shown two naked flute players. They appear to be charming snakes, and these paintings generate interesting dialogue when in juxtaposition with the floral paintings Hibiscus Flowers (2022) and Dogwood (2022). In Hibiscus Flowers, the namesake flowers bloom gorgeously, but in Dogwood, white flowers gradually wither. In Flute Player, naked, innocent women are portrayed singing along with many other creatures, while in Woodwind in the Park, the person reminds the viewer the primitivity, roughness, and eros of Satyr. But for Könst, these two situations cannot be compared. Both exist in the world and share in the wonder and depression. Mourning Dove (2022) further integrates this concept into a gigantic mourning dove. It raises its wings, the feathers sharp as knives, as if about to soar into the air—yet its angle of incline suggests that it is about to fall. Meanwhile, Dove (Falling Away) (2022) portrays a falling white dove, and Map from Memory (red) (2022) presents a world map being burnt red by fire. Porcelain Peace (2022) reflects the beautiful yet fragile nature of peace. Beneath Könst's brushes, people's common hopes are shown to be easy to understand, yet complex and difficult to achieve.

Six small-scale paintings on paper look like sketches of people the artist encountered in life. They are both funny and absurd. The viewer wants to ask where they are from and what makes them so different. At ease, pleasant, angry, remorseful—in Könst's paintings, each emotion chants its own song, leading people to follow their rhythms and frequencies. Be it the darkness in Druid (tree) (2022), the surprise in Chlo-e (2022), or the comfort in Birdwatcher (2022), the natural inaction of one facing all beauty and ugliness, and good and evil, is provided equal interpretation. This is the middle path Könst emphasizes in his exhibition. Finally, Sunbather with Baby (2022) depicts the artist recently becoming a father. The infant, portrayed without color, is held by a loving, peaceful father. The blue sea no longer has any traces of sirens, and yet the world still resounds with beautiful songs.

About the artist
Antone Könst (b. 1987 in New Haven, USA) currently lives and works in Brooklyn, New York. He graduated from The California Institute for the Arts, Valencia, CA in 2011 and received his MFA from the Yale School of Art, New Haven in 2014. Könst received the Socrates Sculpture Park Emerging Artist Fellowship, the Rema Hort Mann Foundation Emerging Artist Grant, and the Fondation des Etats-Unis Fellowship, Paris. His recent solo exhibitions include "Cutting" (2022) at Marianne Boesky Gallery, New York; "Dear Future" (2021) at Marianne Boesky Gallery, New York; "Casual Magic" (2020) at Each Modern, Taipei; "Love & Fear" (2019) at Tilton Gallery, New York; and "PwrFlwr" (2015) at Fondation des Etats-Unis, Paris. Recent group exhibitions include "Sculpture Garden" (2022) at Art Lot, New York; "Kong-Bottom" (2021) at Shelter in Place, Boston; "Wirrwarr" (2019) at Anton Kern Gallery, New York; "Summer Soup" (2019) at Three Four Three Four, New York; "Lucky Draw" (2019) at Sculpture Center, New York; "Big Ringer" (2019) at Andrew Edlin Gallery, New York; "Hi Friends" (2019) at Disturb the Neighbors, New York; "Socrates Annual" (2018) at Socrates Sculpture Park, New York; and "Works on Paper" (2018) at Beers Gallery, London. His works can be found in the collection of X Museum, Beijing and Jorge M. Perez Collection, Miami.
2022-10-04
Information
Other