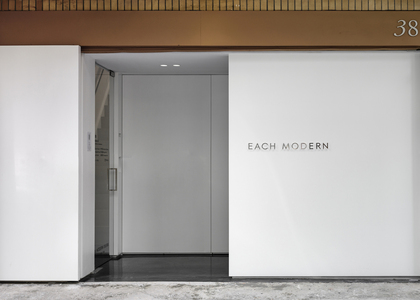 38 Lane 79 Sec. 2 Xinyi Rd. Taipei Taiwan
| Works | following | follower |
| --- | --- | --- |
| 132 | 3 | 8 |
ART TAIPEI 2022
Booth F17
21 – 24 October, 2022
World Trade Center, Taipei

Stanley Chen
Jeffrey Cheung
Jou LiYan
Antone Könst
Lee ChiHsiang
Wang MengSha
Wu MeiChi

Each Modern is pleased to present a group presentation of emerging artists from Asia and the West. The booth will focus on the artist's contemporary art practice and how they interact with the present world. The exhibiting artists include Stanley Chen, Jeffrey Cheung, Jou Li Yan, Lee ChiHsiang, Wang MengSha, Wu MeiChi, and Zhao Gang.

Stanley Chen (b. 1997, Australia) moved to Foshan, Guangdong as a child and later graduated from School of Visual Arts, New York in 2020. Living back and forth in various countries, Chen's painting focuses on his lingering identity. He paints his thoughts, behaviors and feelings toward himself into self-portraits as a way to write his own autobiography and to challenge the cultural differences and the restraints of the tradition; Jeffrey Cheung (b. 1989, USA) is an artist and a skater from California who graduated from the University of California, Santa Cruz. The figures in his painting demonstrate his exploration towards the human body and sexual identity. In some ways, the gender identities of the figures in his works cannot be determined. Rather, the emphasis lies on how they flirt and connect to each other. Through this depiction of bodies in states of joy, play and close relation, the artist expresses the unity of communities of queer and trans people, and people of color.

The art of Antone Könst (b. 1987 in USA) converts ordinary life into mythical fantasies, and his latest paintings made in 2022 use his unique language of painting to respond to the current world. His solo exhibition "Sirens" is also on view at Each Modern during the fair; Lee ChiHsiang (b. 1983, Taiwan) is one of the most representative young artists in photorealism in Taiwan. His paintings present scenes of window views with delicate brush strokes. The Taiwanese patterned glass panes and screen covered windows, the hazy light, and the blurry silhouettes of objects; Lee's paintings reveal an invisible poetic awareness in these everyday scenes. However, what this artist pursues is not merely a meticulous production process in the studio. Instead, what Lee is looking for is more like a floating random confrontation; Classical themes of flowers, still life, skulls, portraits, and the dinosaurs that have recently become the subject of contemporary paintings, are transformed into the rhythms of brushstrokes and the tones of passionate color. Jou LiYan (b. 1996, Taiwan) pushes past the stereotypes and decorative notions of these themes, expressing a progressing freshness, a purity, and the vast and unbound space of life within his paintings.

Wang MengSha (b. 1982, China)'s elegant and colorful paintings have become one of Chinese Contemporary Art's most distinctive works. As one of the few female artists represented in contemporary Chinese ink painting, Wang juxtaposes a sense for trends pulled from present popular culture with that of the classical in portraits of Ming and Qing court ladies, all the while developing a unique style without merely worshiping the past; Wu MeiChi (b. 1989, Taiwan) creates staged scenes composed by daily objects, and the mirrors in the photographs extend the possibility of the spaces. Her 2022 new work rediscovers the meaning of image to her, playing with reality and illusion through transforming the images into various materials and shapes.
2022-10-22
Other