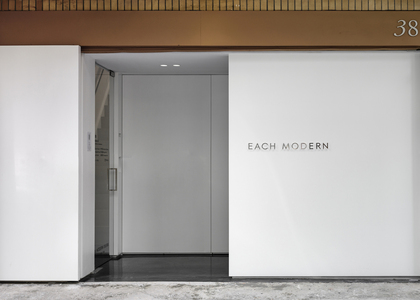 38 Lane 79 Sec. 2 Xinyi Rd. Taipei Taiwan
| Works | following | follower |
| --- | --- | --- |
| 101 | 3 | 8 |
Taipei Dangdai 2022 | Hou ChungMing
Booth C01
May 20 - 22, 2022
Taipei World Trade Center

Hou ChunMing

"JINN-SON Live Tattoo" x Sic Lee | May 19, 2022 VIP Preview Day only

Each Modern is pleased to present a solo booth of works by one of Taiwan's most important contemporary artists, Hou ChunMing at Taipei Dangdai. The presentation will exhibit his latest floral cloth paintings made in 2021 and 2022, along with his early oil on canvases from 1987. A special event, "JINN-SON Live Tattoo" featuring tattoo artist Sic Lee, will also be presented on the VIP preview day only.

Like his peers, Hou's career spans a period of rapid social and cultural change in Taiwan. In contrast to the mass movements and aggressive opposition prevalent in his time, Hou's art preciously carries the sensibility of a generation. His practice focuses on liberating, healing, kindness and caring, revealing not only his own fantasies, but also those of the people. In today's tumultuous context of pandemic and war, we can't help but look back at the absurd world that Hou has created in his art. Moreover, we expect to receive a similar feeling from his new work at the returning Taipei Dangdai.

Since the 1980s and 90s, Hou has created large-scale prints that feature mysterious characters; some of his most iconic works. At the same time, he also painted on floral-patterned cloth, a common and easily found fabric across Taiwan. On these fabrics, Hou paints bold and rebellious sexual organs, as well as bizarre figures. However, the sex and violence in Hou's works are no longer his private desire - they are the topics that the public refuses to address. Hou once invited participants to do nude drawings of their own bodies, allowing them to portray their physical and inner conditions in an unabashed state. This exposure of the human body and taboo issues were contained in his studio, but the result of the painting elaborated their psychological states. As one of his most important creative methods, Hou sees this as a way of "copying." The process copies the exterior and interior aspects of a human, and also resembles a dialectical relationship between artist and subject.

After 35 years of making art, Hou reflected on his career and shifted back to painting. In 2021 and 2022, he created "Jinn-son Bang," a series of floral cloth paintings he made with elements he had developed previously. Through combining the present international context with local floral cloth, Hou also created a series of brand-new images. The choice of the floral cloth could be seen as his recent focus on desire and childhood. In the series, many works are made with embroidery, recalling the lines of the woodcut prints he has produced since the 1990s. What these "Hou-styled" images bring to light is not only a future reference of opposing, satirizing, and teasing, they also express the status of an artist who is nearly 60 years old: living in a place that used to be called Jinn-son(forbidden mountain) in the center of the world, popping up like a "bang" in the air, waking up the complex and instinctive desire on the gaudy and romantic floral cloth, and allowing it to echo through the valley.

About the artist
Hou ChunMing, born in Liujiao Township, Chiayi County, Taiwan in 1963, graduated from the National Institute of the Arts (now the Taipei National University of the Arts). He was invited to exhibit at the Venice Biennale in 1995 and 2013, and his interviewing project, which started in 2008, has been done in Yokohama, Taipei, Taichung, Bangkok, Chiayi, and Hong Kong. His artwork can be found in the collections of The Ludwig Forum for International Art, Fukuoka Asian Art Museum, M+ in Hong Kong, Taipei Fine Arts Museum, Tainan Art Museum, Kaohsiung Museum of Fine Arts, National Taiwan Museum of Fine Arts, Dimension Endowment of Art, Wenhsiu Collection, Five Dime, and White Rabbit Gallery.
2022-04-26
Other