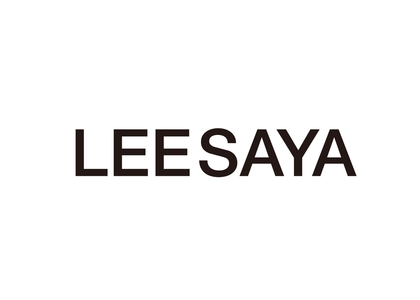 Itsuki Kaito Solo Exhibition "No excuses for showing up"
※英語の後に日本語が続きます

Saturday, November 20, 2021 ‒ Sunday, December 19, 2021

Born in the city of Sapporo, Hokkaido in 1993, Itsuki Kaito was awarded a scholarship by the Kuma Foundation for the second and third semesters of her graduate studies and nominated for the Contemporary Art Foundation (CAF) Award in 2017. She completed her post-graduate studies at the Kyoto City University of Arts in 2019. At present, she is energetically engaged in activities of creative production based in Tokyo. She is active in Japan and other countries, including European countries, China, and the Republic of Korea, and is coming to the fore as a promising young artist.

Kaito's works consist mainly of oil paintings on canvas. While brewing a disquieting atmosphere, they are characterized by use of vivid colors and an arrangement of motifs that could even be seen as arbitrary. The diverse motif assortment includes men without faces, oddly shaped dogs and tigers, and stuffed animals radiating a strange aura. Motifs associated with violence, such as tools with sharp pointed claws, belts, harnesses, and blades, appear in all of these paintings.

Beginning at age nine, Kaito posted pictures she had drawn by computer on internet bulletin boards, and did not concentrate on making "skilled" drawings. She was, on the contrary, heavily influenced by underground contents that could definitely not be viewed in social life, and built up a world view that is all her own. In the case of an artist who has come to grips with herself through painting, the handling of sexual and immoral images cannot be equated with manifestations of wrath and suspicion toward society. Instead, through her depictions of narcissism filled with immorality and shame as the selfish inner world latently existing in the hearts of many, we come to realize that deviations from common sense and social norms can in themselves be a kind of salvation, and at the same time, that art per se possesses a similar quality.

This exhibition directs our attention to the nature of human beings, who end up receiving messages, both unconsciously and passively, from various meaningless things, such as constellations and the holes of overlapping belts. Our deep psyche is at work in unintended readings. The artist has stated that experience, knowledge, and other solid reasons are operating therein, and we cannot make any excuses for it. One wonders what viewers will discover in the weird teapot and constellation-like motifs newly appearing in these works.

We are looking forward to seeing you at No Excuses for Showing Up, a solo exhibition by Itsuki Kaito, a leading-edge artist who is broadening the stage of her activity both inside and outside Japan.

皆藤齋
現れるのに勝手はない

2021年11月20日(土) - 12月19日(日)

皆藤齋(かいとう・いつき)は1993年北海道札幌市に生まれ、在学中より第一期・第二期クマ財団奨学生、2017年にはCAF賞ノミネート、2019年には京都市立芸術大学大学院を修了後、現在は東京を拠点に精力的に制作活動を行なっています。日本をはじめ、ヨーロッパや中国、韓国など国内外で活躍している注目の若手アーティストです。

皆藤の作品は主にキャンバスに油彩で描かれており、不穏な雰囲気が漂いながらもビビットな色使いと一見、恣意的にもとれるモチーフの配置が印象的です。描かれているモチーフは、顔のない男性や、奇妙な形の犬や虎、不思議なオーラを放つぬいぐるみなど様々ですが、鋭く尖った爪のような器具や、ベルト、ハーネス、刃物など暴力を連想させるモチーフが一貫して画面に登場します。

9歳頃からコンピュータで描いた絵をインターネットの掲示板に投稿していた作家は、いわゆる上手な絵を描く、ということには注力してきませんでした。むしろ社会生活では決して見ることのできないアンダーグラウンドコンテンツから多くの影響を受け、皆藤独自の世界観を作り上げてきました。描くことで自己と向き合ってきた作家にとって、性的で非道徳的なイメージを扱うことは社会に対する怒りや疑問をぶつけているわけではありません。むしろアンチモラルや羞恥心を孕んだナルシシズムといった、多くの人の心に潜在的に存在する利己的な内面世界を表現することで、常識や社会性からは逸脱していたとしても、それ自体が救いになり得、同時に芸術そのものが同様の性質を持っていることに気付かされます。

今回の展覧会では、星座や重なり合ったベルトの目など、無意識のうちに、受動的に意味のない様々な物から、メッセージを受け取ってしまう人の性に目を向けます。意図しない読み取りには深層心理が働いており、そこには経験や知識など、確固たる理由が作用している、言い訳のできないものだと作家は話します。新たに登場する不思議なポットや、星座のようなモチーフの中に観賞者は何を見出すのでしょう。
国内外で活躍の場を広げている新進気鋭の作家、皆藤齋の個展「現れるのに勝手はない」を是非ともご高覧ください。
2021-12-03
Information
Other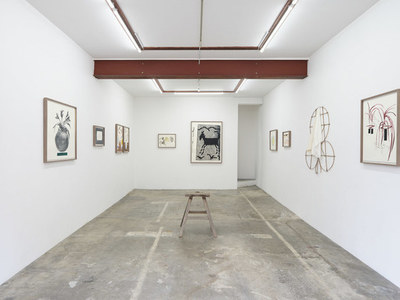 Yukino Miyata Solo Exhibition "Maybe you're right"
Dates: Saturday, January 16, 2021 ‒ Sunday, February 14, 2021 Open Wednesday to Saturday 12pm – 7pm Sunday 12pm – 5pm Closed on Monday, Tuesday and Natonal Holiday Born in Mie Prefecture in 1986, Yukino Miyata has continued to produce and show works of art, mainly in Kyoto, since her graduation from the Kyoto City University of Arts Graduate School. While her works may appear to be acrylic paintings or drawings at first glance because they have the vivid coloration of the former and buoyant flair of the latter, they are actually all prints. Among the different printing techniques, she applied one classified as intaglio, and used a press to print images that she had engraved, mainly on PVC sheet. Since the sheet lacks resilience to the force applied in printing, it is not possible to make many prints with a single one. As compared to woodblock and copperplate prints, however, it yields a better color from the ink, and the prints made with it are characterized by a distinctive running. Through her works so far, Miyata has built her own ideal community. Just as everyone plays house or has fun with dolls in childhood, the artist has made artworks out of this ideal community as she pleases, like a god repeatedly going through a cycle of creation and destruction. In the process of visualizing landscapes and states that do not actually exist through her works, there was a moment when the artist noticed a resemblance to the scenery in Mie, where she was born and raised. Realizing that everything -- both the dazzling memories and the murky feelings of her adolescence -- were inescapably parts of herself and deeply rooted in her very being, she accepted them and has since continued to take furusato ("hometown") as the theme of her works. Meanwhile, the successive catastrophes in recent years and ongoing climate change have exerted an immense influence on Miyata's works. Seeing someone else's furusato changed forever overnight has shown her that her own, which has remained in existence without any such changes, could instantly disappear at any time. It is to erase this anxiety and trepidation that she is producing art. Through her visualization and fixation, the ideal community of her furusato is transformed into a bigger existence within her. Vases and urns often appear in Miyata's works. Mie, where she was born and raised as noted above, experienced the Ise Bay Typhoon in 1959. This was a storm of historic proportions which wreaked great devastation on an almost nationwide basis, with the brunt borne by the area extending from the Kii Peninsula (on which Mie is located) to the Tokai region. The artist, too, has a deep fear of water which she cannot entirely eradicate. It may be that she is containing her uneasiness about the onslaught of floods of water coming in irregular waves by putting it into her vases and urns, which are consequently reflections of her heartfelt wishes for peace of mind. We are eagerly looking forward to seeing you at Maybe You're Right, the first solo exhibition by Yukino Miyata to be held in Tokyo.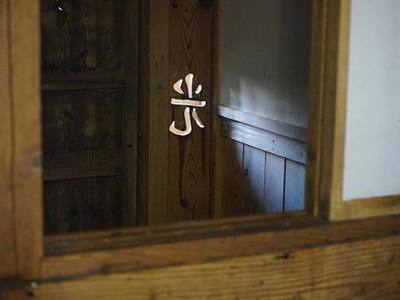 Bontaro Dokuyama "Reversing Light"
※英語の後に日本語が続きます Saturday, May 22, 2021 ‒ Sunday, June 20, 2021 Born in Fukushima Prefecture in 1984, Bontaro Dokuyama launched into artistic activity in reaction to the Great East Japan Earthquake that struck on March 11, 2011 and ensuing catastrophe at the Daiichi Nuclear Power Station operated by Tokyo Electric Power Co. He has since remained in vigorous action both inside and outside Japan, and participated in various exhibitions, including "Roppongi Crossing 2019: Connexions" (Mori Art Museum, Tokyo) and "Aichi Triennale 2019: Taming Y/Our Passion" (in the Shikemichi & Endoji areas of Nagoya). His solo exhibition "SAKURA" held at LEESAYA last year is still fresh in all minds. It shed light on the historical stratification and political diversity associated with the cherry blossom ("sakura"), whose use for the "public entity" has changed with the times. For it, Dokuyama unveiled a number of works that were incisive commentaries on themes including national identity, war, economic benefit, and the Olympics. The exhibition was roundly praised. This exhibition is being held for the purpose of promoting IGENE, a project for a tour of the zone designated as "difficult to return" within the area that was exposed to high levels of radioactivity, to be conducted this summer. Dokuyama first entered this zone in his native Fukushima last year, about nine years after the nuclear catastrophe that occasioned the start of his artistic activities. This experience gave him a keen awareness of how the zone situation, nuclear power, and Fukushima have been discussed by the mass media, society as a whole, and the artist himself on the basis of information that has not been updated, and prompted his decision to hold the tour. He intends to visit various locations together with the participants, with a view to deepening understanding of the current status and pursuing discussion grounded in the realities. LEESAYA endorses these intentions of his and decided to assist the promotion of this tour. The exhibition will show a video affording glimpses of the tour destinations and a number of new works inspired by "Lemon Elegy," one of the poems in the collection "Chieko's Sky" dedicated to Chieko Takamura, a noted Fukushima-born painter who is a favorite of Dokuyama's, by her husband after her death. It will also offer detailed information on the tour and sell tickets for it. Dokuyama cannot readily obtain public subsidies for the tour given its nature, and is planning to pay the entire expense himself. We are therefore hoping that as many people as possible will give their approval to and provide some warm support for this project, and urge all to see "Reversed Light," this latest solo exhibition by Bontaro Dokuyama. 毒山凡太朗 個展「反転する光」 2021年05月22日(土) - 06月20日(日) 毒山凡太朗(どくやま・ぼんたろう)は 1984年福島県に生まれ、2011年3月11日に発生した東日本大震災と東京電力福島第一原子力発電所事故をきっかけに、作家活動を開始し、「六本木クロッシング 2019:つないでみる(森美術館)」や「あいちトリエンナーレ2019 : 情の時代(四間道・円頓寺エリア、名古屋市)」をはじめ、国内外を問わず精力的に活動を続けてきました。 記憶に新しい昨年開催されたLEESAYAでの個展「SAKURA」では、時代によって「公共」のために利用されてきた桜のもつ、歴史的重層性と政治的多義性に焦点を当て、ナショナル・アイデンティティ、戦争、経済、五輪など様々なテーマに鋭くアプローチした作品群を発表し、大変ご好評をいただきました。 本展は今夏に行われる帰還困難区域ツアープロジェクト「IGENE」のプロモーションを目的とした展覧会です。毒山が作家活動を始めるきっかけとなった原発事故から、9年が経った昨年、初めて故郷・福島の帰還困難区域に入域しました。その経験から、いかにメディアや社会、自分自身がアップデートされていない情報で区域内や原発、福島について語っていたかを痛感し、ツアーの開催を決意しました。参加者と共に各所を巡り、現状についてより理解を深め、リアリティのある議論を交わしたいという作家の想いに弊廊も賛同し、ツアーのプロモーションを助成することといたしました。 展覧会ではツアー内容が垣間見える映像作品と、福島を代表する作家の高村智恵子に、ひとしおの思いを寄せる毒山が、「レモン哀歌(智恵子抄)」を手がかりに新作群を発表いたします。また、ツアーに関する詳細情報の案内や、チケット販売も行う予定です。 ツアーの内容から、公的な助成金などを得ることが難しいため、全て作家が自弁で行う予定です。一人でも多くのお客様にご賛同と温かいご支援を賜りたく、毒山凡太朗の「反転する光」を是非ともご高覧ください。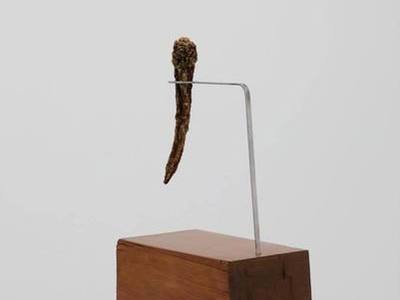 Sen Takahashi "CAST AND ROT"
※英語の後に日本語が続きます Saturday, June 26, 2021 ‒ Sunday, July 18, 2021 Born in Tokyo in 1992, Sen Takahashi received a Master's degree in sculpture from the Tokyo University of the Arts Graduate School of Fine Arts in 2021. Based on his foundation of the know-how required for sculptural expression, he has been avidly producing video works, installations, and other pieces that make maximum use of the features of a variety of materials including edible candy and aromatic oil. The main exhibitions where he has showed works so far were "Between Two Stools" at The 5th Floor (Tokyo, 2020) and "Sustainable Sculpture" at KOMAGOME SOKO (Tokyo, 2020). Since completing the aforementioned Master's course, this young artist has been garnering even more attention. Takahashi first came to full-fledged grips with art not in educational institutions or through creative activities, but in the work of conserving bronze sculptures as part of a job. In many cases, artistic activities generally start with self-expression through production utilizing some sort of materials. In Takahashi's case, in contrast, they began with the rare experience of being confronted with works that were rotting or otherwise showing signs of losing their original condition, and taking action to conserve them. While performing the procedure for conservation, the artist simultaneously imagines the final fate of the object in question. In Takahashi's art, one always senses preparations for the end of things and related behavior. The works in which the artist faces up to his own existence are no exemption. The perspective is not the humanistic one associated with "vanitas" allegory or a Buddhistic sense of impermanence. While accepting the fact that even his own works, like everything else around him, will eventually go out of existence, the artist simply observes the uncertainty of being and expresses it in his art. This solo exhibition presents new works in the "Cast and Rot" series produced by the application of measures used for conserving bronze sculptures to carrots. Figuratively speaking, these works forcibly put bronze sculptures and carrots, whose respective speeds of deterioration over time are obviously radically different, on the same temporal axis. What is lost, and what remains, as a result? Please make sure to see "Cast and Rot," the first solo exhibition of works by Sen Takahashi at LEESAYA Gallery! 髙橋銑 CAST AND ROT 2021年06月26日(土) - 07月18日(日) 髙橋銑(たかはし・せん)は、1992年東京都に生まれ、東京芸術大学美術研究科彫刻専攻を2021年に修了しました。彫刻表現に要する技術を礎に、映像作品やインスタレーション、食用の飴や香油など、様々な素材の持つ特性を最大限活かし、作品制作に意欲的に取り組んでいます。主な展覧会に「二羽のウサギ / Between two stools」、The 5th Floor(東京、2020年)、「Sustainable Sculpture」、KOMAGOME SOKO(東京、2020)など。修士課程修了を機に、一層注目を集める若手アーティストです。 髙橋が初めて本格的に美術に触れたのは、教育機関や制作活動ではなく、仕事で携わったブロンズ彫刻の修復作業でした。多くの場合、何らかの素材を使い作品制作を通して、自己表現をしていくことが芸術活動の始点となるのが一般的でしょう。しかし髙橋の場合は、朽ちかけ、元の状態が壊れる前兆のある作品に対峙し、それを修復するという稀有な体験が始まりとなりました。直すという行為と同時に、そのものの終焉を想像すること。彼の作品表現には常に事物の終わりに対する身支度や、振る舞いを感じさせます。それは作家自身の存在そのものに向き合う場合でも例外ではありません。ヴァニタスや諸行無常など、ヒューマニズムのまなざしではなく、ただそこに事物が存在するのと同じように、制作した自身の作品さえ、いつか失くなることを受け入れながら、存在の不確かさを静観し、作品へと表現しています。 今回の個展では、ブロンズ彫刻に用いられる保存処置を野菜のニンジンに施した「Cast and Rot」シリーズの新作群を発表します。経年劣化のスピードが大きく異なるブロンズ彫刻とニンジンを、無理やり同じ時間軸に当てはめたとき、そこでは何を失い、何が残っていくのでしょうか。 LEESAYAでの初めての個展となります、髙橋銑の「CAST AND ROT」を是非ともご高覧ください。