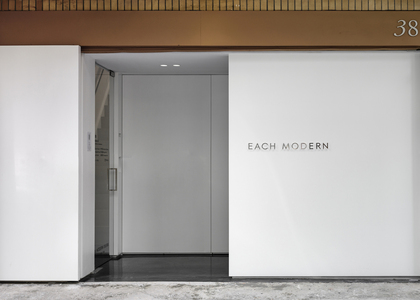 38 Lane 79 Sec. 2 Xinyi Rd. Taipei Taiwan
| Works | following | follower |
| --- | --- | --- |
| 142 | 3 | 8 |
Art Taipei 2020: PAINTINGS
Each Modern at Art Taipei 2020, booth B06
October 23 - 26, 2020

EGAN FRANTZ
HELL GETTE
HUANG HAIHSIN
ANTONE KÖNST
STEFAN MÜLLER
ARAKI NOBUYOSHI

Each Modern is pleased to present PAINTINGS, a group show gathering the most engaging international artists at Art Taipei 2020. Assembling five artists who manipulate existing conceptions of classicism to surrealism in the digital age, the show harnesses the power of the transforming painterly surface into multicultural hybrid. Alongside with the five artists focusing on painting, the Japanese photography master Araki Nobuyoshi represents the erotic world through his unmistakable perspective.

EGAN FRANTZ(born in Norwalk, CT, US ,1986) composes large-scale paintings full of extreme visual elements and references to his interest in music, theology, and art forms. His semi-abstract paintings present strong colors, repetitive stripes, and clear graphics that the "switch-on" on his familiar though fresh practice. Recent solo shows include The Praying Boy, Nagel Draxler, Berlin, Germany, 2020; Egan Frantz, Neuer Aachener Kunstverein, Aachen, Germany, 2018; Egan Frantz, Team Gallery, New York, US, 2018. Frantz currently lives and works in Brooklyn, New York and Connecticut.

HELL GETTE(born in Karabulak, Kazakhstan, 1986) imbues her imagined landscape with a proliferation of painted emojis. Her compositions imitate digital illustration, and titles her works with hashtags and emojis, which create a brand-new way of painting that reflects a hyper contemporary reality. Recent solo exhibitions include #UnzUnzUnz, Nagel Draxler, Berlin, Germany, 2019; ##, curated by Juergen Dehm, Annka Kultys Gallery, London, UK, 2020; and group exhibition On Speaking, curated by Julia Eichler, Kienzle Art Foundation, Berlin, Germany, 2020. Gette currently lives and works in Munich, Germany.

HUANG HAIHSIN(born in Taipei, Taiwan 1984) studied at the School of Visual Arts, New York. Her unique style of painting depicts daily situation in an ironic, helpless, and at time humorous perspective. This year, Huang's recent large-scale illustrations of parks and various museums were profiled in depth on the Metropolitan Museum's "My Met Stories" channel. Several of Huang's books of illustrations have been collected by the Metropolitan Museum Library. In 2018, she was shown in the group exhibition Catastrophe and the Power of Art, at the Mori Art Museum, Tokyo. Her works will be included in the upcoming 2020 Taipei Biennale.

ANTONE KÖNST(born in New Haven, US, 1987) graduated from Yale School of Art. His work is inspired by the history of modern art and Eastern philosophy. His works portray animals and figures with referenced from historical, vernacular, and mythic sources to explore the hidden images of the daily life. In 2020, Antone's first solo exhibition in Asia, Casual Magic at Each Modern, aroused the interest of Taiwanese audiences to a young American contemporary artist. Recent exhibitions include Love Dove, a public sculpture at Fishers Island, New York, 2020; Antone Könst: Love & Fear, Tilton Gallery, New York, 2019. Könst currently lives and works in Brooklyn, New York.

STEFAN MÜLLER(born in Frankfurt am Main, Germany, 1971) develops a unique visual language through a minimal usage of lines and graphics. Although his abstract paintings are mostly subdued and casual, utilizing raw or untreated canvas, pigment, pencil, and even incidental errata that mark and stain his surfaces, he's able to produce works of great effect. His limited materials and forms create a very confident and personal vocabulary which despite being soft, is energetic and full of intention. Recent exhibitions include Schlendern im Verweilen solo exhibition, Galerie Nagel Draxler, Berlin, Germany 2019; Freundschaftsspiel Sammlung Grässlin group exhibition, Museum für Neue Kunst", Freiburg, 2019; Painting Forever! Keilrahmen group exhibition, Kunstwerke Berlin, Germany, 2013; Sergej Jensen/Stefan Müller duo exhibition, Greene Naftali Gallery, New York, US, 2003. Müller currently lives and works in Berlin, Germany.

ARAKI NOBUYOSHI(borin in Toyko, Japan, 1940) has aggressively revealed his desires and emotions through his exotic, intimate, weird, and sometimes grieving photographs of people and cityscapes. Araki's one-of-a-kind style of photography is highly recognized worldwide. Recent important museum show include Tokyo Photographic Art Museum, Tokyo, 2017 ; Araki, Musée National des Arts Asiatiques Guimet, Paris 2016; Sentimental Journey 1971-2017. His color portraits made in the early 90's will be presented at Art Taipei. Araki currently lives and works in Tokyo, Japan.
2020-10-06
Information
Other