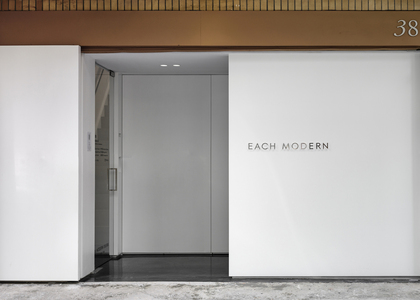 38 Lane 79 Sec. 2 Xinyi Rd. Taipei Taiwan
| Works | following | follower |
| --- | --- | --- |
| 132 | 3 | 8 |
Xu Jiong ShanShui 2022 SS
30 August - 1 October, 2022
Opening reception: 2 September, 2022 | 5 - 7 PM

Each Modern is pleased to announce Xu Jiong's latest solo exhibition "ShanShui 2022 SS." In 2019, Xu's solo show "Self-portrait" at Each Modern was a turning point. He used acrylic to create calligraphy and abstraction for the first time and extended his mediums to mixed media and collaging. Besides the methods, Xu continues his pioneer interpretation of "ShanShui (landscape; Shan: mountain, Shui: water)" to "ShanShui 2022 SS," presenting how he reacts and overthrows the image of "ShanShui" and its surrounding.

In traditional Chinese paintings, "ShanShui" is the most well-known genre. Unlike the realistic narrative in Western landscape paintings, "ShanShui" tends to portray moods. These moods that indicate artists' minds can be vast and far, and they can be small and delicate. Although moods are invisible, the genre is inevitably facing the limitations of copying and inheritance like the others. Chinese landscape painter of the Song dynasty Fan Kuan (c. 950 – c. 1032; Fan painted the famous work Travelers among Mountains and Streams) once said "Learning from the achievement is better than learning from the old masters; learning from your own self is better than learning from achievement." However, only a few artists successfully learn from themselves and most of them see themselves as "literati (government officials and prestigious scholars in ancient Chinese society)." Trained with calligraphy and Chinese painting education since his youth, Xu manages to break through the box and creates a brand-new appearance of "ShanShui".

Born in Hangzhou, Xu's childhood was surrounded by mountains and water. To him, there is no need to praise the landscape intentionally. Instead, it becomes a daily normality. This allows Xu to move his eyes away from the actual landscape to poetic feelings and details that people omit: stars and light, sun and moon, moss and water stains, and pealing walls, these can all be "ShanShui". Xu puts the idea of vastity into his 2020 to 2022 new works. We will not only find symbolic materials such as ink, mineral color, and paper, but also see tapes, acrylic, and readymades. A question gradually rises: Why do these contemporary materials look violative to Chinese painting? Is it because Chinese painting is not contemporary, or there is no room for Chinese painting in contemporary art? This is how Xu breaks the stereotypes and emphasizes their unity: since we cannot live like ancient people, then why do we reject to be inspired by the present time? Xu's flexible "ShanShui" presents a much more poetic and sincere status. The usage of tapes made in China also reflects on how he comments on the surrounding: fancy, common, mediocre, yet still compromises to use.

Seen in his previous JiaDao and Self-portrait series, Xu also paints the transforming shapes of "box," "monument," and "tower" – the Chinese symbols of power, religion, culture, politics, philosophy, and sexuality – in the new works. Along with the artist's material liberation, these decomposed images are placed with playful collages and serious writing fonts. All works by Xu connect past and now, rejecting fragmental explanations of history, revealing his personal self, and keeping the exhibition away from the rules of contemporary art making. Another rule-breaking element is the "SS" in the exhibition title, which usually describes the Spring/Summer season in fashion lookbooks. Here, "SS" is the abbreviation of "ShanShui" and it does indicate Spring and Summer – seasons that everything grows and prevails. This is not only Xu's intention to bring up the seasons, but also hinting the newborn of "ShanShui".

About the artist
Xu Jiong (b. 1983 in Hangzhou, China) graduated from China Academy of Art in calligraphy major and he currently lives and works in Beijing. Recent solo exhibitions include "Self-portrait" (2019) at Each Modern, Taipei; "I Saw JiaDao" (2017) at aura gallery taipei, Taipei; and "Da Guan" (2014) ataura gallery Beijing, Beijing. In 2021, Xu participated in Qiongjiutang's group show "ETERNAL PAST, PRESENT." Publications include group catalogue Signals/Drawing Tube (2021) and All Things Are in Me (2015). In 2022, Xu will participate in the calligraphy biennale at Hengshan Calligraphy Art Center, Taoyuan and group show "Morgenrot und Abendbrot" at Galerie Nagel Draxler, Munich.
2022-09-27
Other