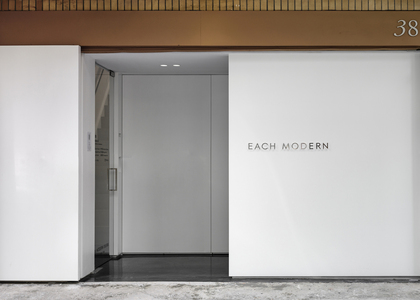 38 Lane 79 Sec. 2 Xinyi Rd. Taipei Taiwan
| Works | following | follower |
| --- | --- | --- |
| 142 | 3 | 8 |
Paprika
11 May – 18 June, 2022

Hilo Chen
Cheng TsaiTung
Dino Gavina
Hou ChunMing
Ling Yung
Man Ray
Mizukami Emi
Shinoyama Kishin
Teng NanKuang
Ueda Shoji
Ebosi Yuasa

Collaborator: LIGHT+

Each Modern is pleased to announce "Paprika," a group show of works of surrealist art. The exhibition, named after Satoshi Kon (1963 - 2010)'s last animated film "Paprika"(2006), presents the expansion of Surrealism from the Western world to Asia and Taiwan and how the classic masters and contemporary artists create art emphasizing the critical and imaginative powers of the subconscious. The exhibition is a collaboration with LIGHT+.

Man Ray (1890 - 1976) created iconic photograms by placing objects on photosensitive paper. So refined and personalized was this technique by the artist that eventually these types of prints were called rayographs. In Électricité (1931), the switch and the cable indicate the light and darkness of the moon. He also projected his interpretation of Surrealism on to real-life objects. In Le Témoin (1971/2000), Man Ray put a giant eye from his work The Witness(1941) on a chair originally from his studio. The two works Venere Mirror Tribute to Man Ray (2004/2020) by the famous Italian designer Dino Gavina (1922 - 2007) place the well-known lips and bound body by May Ray within oval mirrors.

From May Ray, the exhibition explores the tremendous influence of Surrealism in Asia and Taiwan, and the diverse motivations of artists inspired by this movement.

Surrealism prevailed in the 1930s in part due to its connection to anti-war movements. In the 1940s, Surrealism was brought to the US by European artists who fled their war-torn home countries. Later, Surrealism was not just an important progenitor of Abstraction, but also gradually spread worldwide. In the 1960s, the wave hit Taiwan, where Realism had been a long dominant trend. Along with the Fifth Moon Group and the Ton Fan Group, who strived to pursue Abstraction, Teng NanKuang (1907 - 1971) absorbed the idea of European Surrealism and later developed their own unique styles of art. His non-traditional documentary photography demonstrated his unusual usage of composition and shooting distance. Well-known for his Photosurrealism painting, the early work of Hilo Chen (1942 - ) utilized blank color spaces to create a floating and surreal atmosphere, emphasizing his focus on portraiture and human body at the time.

After martial law ended in Taiwan, Surrealism became an expressive weapon for artists like Hou ChunMing (b. 1963) and Cheng TsaiTung (b.1953). They unreservedly portrayed sex and violence in their art, stating the "parallel reality" the people refused to talk about in the 1990s. In post-war Japan, photographers Shinoyama Kishin (b. 1940) and Ueda Shoji (1913 - 2000) were also exploring the possibility of Surrealism in photography. However, their Surrealism was more like a great escape from an anxious reality, such as Shinoyama's mysterious colorful portraits and Ueda's staged "theater" on the Tottori dunes.

When we look back at one of the most fundamental elements of art, painting, we will find that Surrealism is in fact immersed in many young Japanese and Taiwanese artists' works. Ebosi Yuasa (b. 1983) creates a fictional painter who was born before war and makes paintings of mixed time and space; the abstract figures in Mizukami Emi (b. 1992) produce paintings that portray many ambiguous surrealistic scenes; Ling Yung (b. 1992)'s September (2001) conveys a submerged blue state, with the exposed bust of a figure transforming into an amorphous plum of flowers as a fish approaches. In the world that Ling Yung has created, the boundary between humans and objects is permeable.
2022-06-14
Other