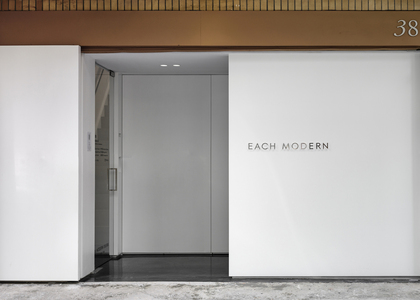 38 Lane 79 Sec. 2 Xinyi Rd. Taipei Taiwan
| Works | following | follower |
| --- | --- | --- |
| 135 | 3 | 8 |
Stalker
Oolong School|Cheng TsaiTung Earthstone Chu Hsu YuJen Shiau JonJen Wang WanChun Yu Peng
Curator|T.N. Liu

Venue I
ACHI inspired by Each Modern (156, Sec. 4, Xinyi Rd, Taipei; by invitation only)
18 May to 18 June, 2022

Venue II
cans@project (9, Lshui St, Taipei; Mon. to Sat., 11 AM – 7 PM)
18 to 31 May, 2022

Opening Reception (by invitation only)
7 - 9 P.M. 18 May 2022
ACHI inspired by Each Modern (156, Sec. 4, Xinyi Rd, Taipei)

The term "Oolong School" was coined at the Ink Now art fair, four years ago in January, 2019. Although cans@project has curated solo exhibitions for Yu Peng and Cheng TsaiTung since the fair, this exhibition, to be held in two parts at cans@project (31 to 18 May) and ACHI inspired by Each Modern (18 May – 18 June) will be the second group exhibition of the "Oolong School".

The title of the exhibition at ACHI inspired by Each Modern, "Stalker", comes from an exhibited work by Wang WanChun and shares a name with Andrei Tarkovsky's seminal 1979 soviet science fiction film as well. In contrast to Each Modern's contemporaneous exhibition "Paprika" (inspired by a 2006 Japanese animation), "Stalker" represents the anxiety and insecurity of self-discovery in the 20th century. Whereas "Paprika" focuses on the uncharted future humans are now headed towards, "Stalker" attempts to answer the question of seeking oneself through poetic and philosophical answers.

The movie Stalker (1979) is a journey of self-exploration that lacks any fantastical or life-affirming resolution; rather, the plot is full of pain and fragmentation. The characters must suffer through wasteland, swamp, and torture, and eventually realize that they can only be fated to be but another form of repetitive and circulating exile. This journey echoes with Yang Zhao's criticism of these artists, including Cheng TsaiTung: "In order to seek, they emphasize the blurry subject of uncertainty in the trace of memory. Art and painting are their methods, and the painters themselves are the ones they are seeking." (Yang Zhao, 1994)

Within the context of literati painting, the "Oolong School" is its only and the last remaining descendant in the late 20th century. Compared to the other artists of their time, the members of the "Oolong School", Yu Peng (1955 – 2014), Cheng TsaiTung (1953 - ), Hsu YuJen (1951 - ), Earthstone Chu (1950 - ), Shiau JonJen (1954 - ), and Wang WanChun (1956 - ), whether academically trained or not, tend not to interrupt, destroy, criticize the present context. Each of them has their unique way to model the past and create the new, revealing an "artistic vitality with no influence from outside trends and movements" (Huang HanDi, 1985), elevating the paintings of these hermit intellectuals in the 20th century.

Prior to and after the lifting of martial law, as Freedom remained an emerging but hesitant power. Freedom was the emerging but hesitating power before and after the end of martial law, artists of the "Oolong School" attempted to pursue art that was tranquil yet roaring, based on basic human truths and emotions. To me, the most valuable and unique aspect of "Oolong School" is that their works are all about people, whether it be themselves or others. They seem to create some kind of intimacy, using large-scale art to invite audiences to walk into them through different energies, which allows them to feel the weight of its impact from inside out. To the "Oolong School" artists, I believe they want to express the enormous "hard to understand" elements of life. This is the "scale of human emotion", revealing it as an infinite human value equal to epic and tragedy.

About Oolong School
Oolong tea is originally from Mount Wuyi in Fujian. The tea was imported to Taiwan to grow in the early period of Ming and Qing Dynasties. The quality was later improved during the Japanese colonial period, which built up the basics of Taiwanese oolong tea. To call these artists born after 1949 as "Oolong" is to highlight their connection to Chinese culture and art as well as the Western art education introduced by Japan. They know Chinese culture well, and they understand Western art even more; thus, becoming the descendants of literati painting who bravely create a new Eastern aesthetic. The artists of Oolong School are Cheng TsaiTung (1953 - ), Earthstone Chu (1950 - ), Hsu YuJen (1951 - ), Shiau JonJen (1954 - ), Wang WanChun (1956 - ), and Yu Peng (1955 – 2014).
2022-04-27
Other